Pick Tracking is a way to easily add and track sports betting picks using the BettingPros iOS or Android apps - available free on the App Store and Google Play. We currently allow you to make two different types of picks, both with a different purpose: Quick Picks and Custom Picks.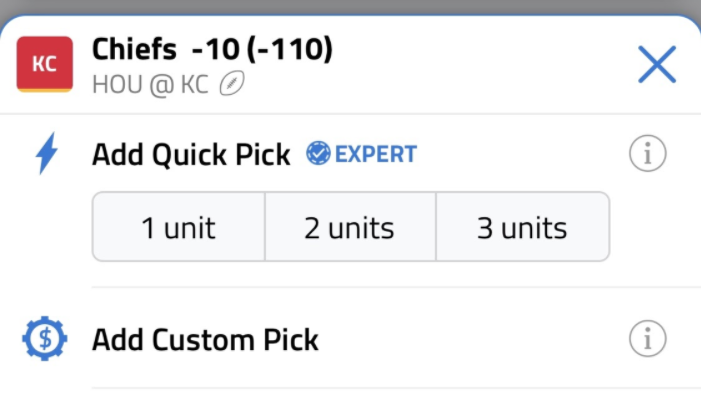 Quick Picks and the Accuracy Competition
Add a Quick Pick to participate in our accuracy competition and vie for a top spot on the leaderboards. See how you stack up against the BettingPros community and real industry experts.
The scoring system rewards you for making correct predictions, just as sports bettors are rewarded for making winning bets.

How do I add a Quick Pick and participate in the accuracy competition?
Custom Picks
Add a Custom Pick to privately track real bets you may have placed with a sportsbook, or picks that you just want to keep private. You have the ability to customize the risk amount, line, and odds however you want, but Custom Picks are not eligible for the accuracy competition and leaderboard.
How do I add and configure a Custom Pick?
---
Please Note: All BettingPros Picks are for tracking and informational purposes only, and do not include real money wagers, payouts, or prizes.